Marilyn & Melrose – A Unique Lifestyle Store in Alnwick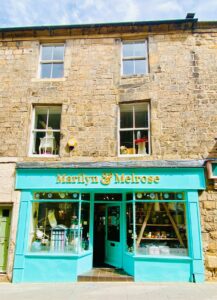 We first opened Marilyn & Melrose on 4th August 2012 in Alnwick, Northumberland, and from the beginning, our aim was to offer customers a carefully curated selection of items for themselves and their homes. We are also very proud to have been the first Annie Sloan Chalk Paint™ stockist in the North East.
The Chalk Paint™ is so special and an absolute joy to use. Annie Sloan says of the paint she created, "Painting with our paint should always be a pleasure". Annie Sloan developed her famous Chalk Paint™ in 1990 because she wanted a paint that would have many uses, from acting like limewash to looking like old painted furniture. She also wanted a good selection of colours that could be extended.
You'll find us at 12 Narrowgate, Castle Quarter, Alnwick, Northumberland, NE66 1JG, where you can buy the Annie Sloan Chalk Paint™ and accessories, alongside a wide selection of beautiful homeware and soft furnishings. You'll find all that you need to have a go at upcycling or revamping your own furniture. We use the beautiful Chalk Paint™, decorative paint by Annie Sloan for all the furniture we sell and also offer workshops so that you can learn the technique yourselves. We're happy to accept commissions if you don't feel quite brave enough to tackle your own furniture too.
Marilyn & Melrose came about by accident and serendipity, rather than design, and originally opened on the cobbled street of Bow Alley, Alnwick. We moved a short distance to Narrowgate in 2013 and customers enjoy an expanded range of brands, all of which we use ourselves. Everything we sell has to pass our own 'checklist' ~ first of all, we're looking for great quality, then it also has to be a fair price for what it is and next we have to be sure that we would use it ourselves and be happy to pay the price, whether it's a gift for under £10 or something which is more of an aspiration purchase.
We're always searching for items that are a little out of the ordinary and catering to the lifestyle of our customers, whether that be beautiful soft furnishings, furniture, Sterling Silver jewellery with semi-precious stones, fashion jewellery, bags and accessories, kitchenware and tableware, mind/body and spirit items, essential oils, health and wellness. It's easy to understand why our customers refer to us as a 'mini department store' and you will have three floors to explore!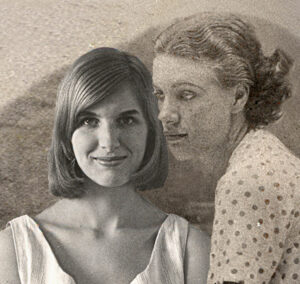 We're asked this often, so in case you are wondering about the shop name ~ Marilyn is Karen's late mother and Melrose is her maternal Grandmother.  Karen's mother, in particular, was the driving force and inspiration for her love of art and getting creative; she was an accomplished artist and art teacher.  Her Grandmother, was Caymanian was equally talented; she was named after 'Melrose' in the Scottish Borders.  Both women were fantastic homemakers, who could turn their hand to anything, whether it was making ballgowns, climbing up ladders and decorating, gardening and digging sandpits or producing a delicious feast in the kitchen.  It seemed fitting to include them in what is a truly family venture.
Our shop is open seven days a week and you can always be assured of a warm and friendly welcome from Paul who has a genuine passion for his role as the 'face' of Marilyn & Melrose.  He is also very knowledgeable about the selection of Crystals and Minerals we sell; his background is in Geology.  Everyone is welcome to browse, have a chat and enjoy exploring what Marilyn & Melrose has to offer.